22nd October 2013
Prepare for Modi's Kalyug: Raping an innocent woman in custody. Killing her in a government office.
I chanced upon this a few days ago. In this story – which belongs to the Kalyug of Modi – the good are portrayed as evil, and the evil become heros.
Sources for this wonderful story about Modi's heroic killings of innocent Muslims (essential to achieve a great "Hindu" India) include: this, this, this, this, and this.
It is true that the incident discussed here is not yet proven in court. However four things clinch the case:
a) Witness statements
b) Phone call records
c) Forensic analysis of the mud where the cremation occurred
d) CONSISTENT with all other aspects of Modi's system of functioning as the "HINDU" GODFATHER.
Key players the story:
VILLAIN (wife of a criminal but with no charge against her)
Kauserbi, wife of Sohrabuddin and witness to his extra-judicial killing by Modi's henchmen.
HEROS: (Modi's henchmen and fighters for a "Hindu" India)
The main hero, first:
– a man sworn to protect the Indian Constitution.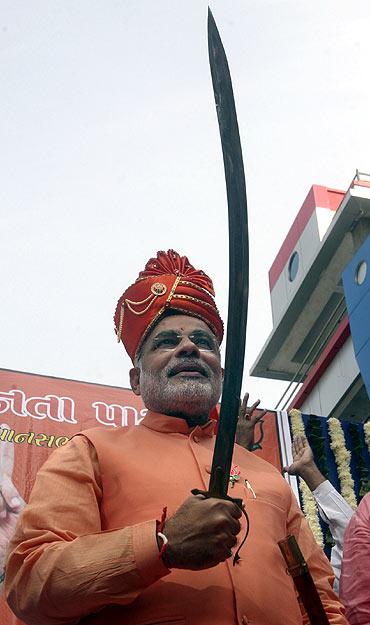 HERO #2) D.G.Vanzara, 1987 batch IPS Gujarat cadre, DIG of Anti Terrorism Squad (ATS) – a man sworn to protect the Indian Constitution.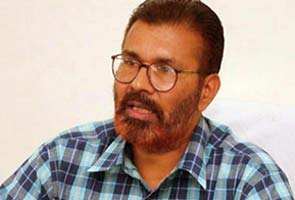 HERO #3) Rajkumar Pandian, 1992 batch IPS Gujarat cadre, and SP ATS – a man sworn to protect the Indian Constitution.
22 November 2005
On 22 November 2005, at about 9 p.m. Sohrabuddin and Kausarbi boarded a luxury bus from Hyderabad to Sangli, Maharashtra.
23 November 2005
Around 1.30 a.m on 23 November (in the middle of the night) Modi's policemen, led by Rajkumar Pandian, and comprising M L Parmar, N H Dabhi, Balkrishan Chaubey and N V Chauhan, along with an Andhra Pradesh team of policemen in a Qualis Jeep blocked the bus and arrested Sohrabuddin and took Kauserbi along. So far so good. Police are entitled to make arrests – provided they had the right papers. Clearly there was a VERY strong case against Sohrabuddin.
26 November 2005
EXTRA-JUDICIAL KILLING: THE SYSTEM OF JUSTICE IN MODI'S KALYUG
Sohrabuddin was "encountered" in the early morning of 26 November, 2005 [In a recent supplementary charge-sheet filed by CBI on 6th May 2013 it is reported that (a) Vimal Patni, the owner of R K Marbles and (b) Shri Gulab Chand Kataria, former Home Minister of Rajasthan had conspired to kill Sohrabuddin as he was allegedly trying to extort money from R K Marbles. The killing was outsourced to the Gujarat Police in consultation with Amit Shah, Modi's Minister of State for Home of Gujarat].
No trial for Sohrabuddin. Just liquidation. How cool is that! Want to kill someone. Just outsource to Modi. That's a great "Hindu" India: the Modi Kalyug.
Now, from this wikipedia entry, you can see that there were massive proofs against Sohrabuddin. It should have been an easy matter to bring him to book. But MODI DOESN'T LIKE THE SYSTEM OF JUSTICE. He is the judge, jury and executioner. If he THINKS you are guilty, its over for you. And, of course, he has COMPREHENSIVELY destroyed his own justice system (in Gujarat) in every possible way.
That's the kind of Kalyug India should prepare for if he becomes PM.
26-28 November 2005
RAPE: THE NECESSARY REQUIREMENT OF MODI'S KALYUG
Kauserbi was confined in a farmhouse known as Arham farm from 26 to 28 November, 2005. PSI Chaube was deputed to guard her, but instead, he raped her. It is a separate question WHY she was detained. She was a free woman and should NOT have been detained in the first place.
29 November 2005
On 29th November around 12.30 p.m, she was taken to the ATS office by PSI Choube.
DG Vanzara, DIG and Rajkumar Pandyan, SP, offered her a huge sum of money for her silence.
She refused. On being told about the death of Sohrabuddin, she turned hysteric.
MURDER BY THE GOVERNMENT: A NECESSARY ELEMENT OF MODI'S KALYUG
Narendra Amin, DySP Crime Branch Ahmedabad, who was earlier a doctor by profession, was summoned by Vanzara around 4 p.m.
Kauserbi was drugged and killed in that very office.
[Evidence: Based on the call records, the CBI found that she was killed in the evening on November 29, 2005. To know about her death and disposal of her body, the CBI had scrutinised call records of accused cops – DG Vanzara, NK Amin, Balkrishan Chaubey and VA Rathod]
Vanzara called PI Rathod to fetch a tempo to transport firewood around 5 p.m.
Kauserbi's dead body was carried away in a police jeep to Illol village from ATS office around 6 p.m. [Evidence: The investigating agency had found that the mobile tower connectivity of all these four cops shows that they reached Illol in the night of November 29.]
Nathubha Jadeja (driver of the tempo) stated that:
a) Kauserbi was cremated by Vanzara, R.K. Pandiyan, N.K. Amin, Dy.S.P., B.R. Chaubey, NV Chauhan (sub-inspectors) on the bed of Dhavdi river at Village Illol. [Some evidence]
b) Her remains of bones and ashes were cooled down by pouring water and transferred into a gunny bag.
c) BR Chaube and NV Chauhan later threw the gunny bag in the Narmada River in Bharuch District.
COMMENT
I believe that the rape and murder of Kauserbi is BEYOND REPREHENSIBLE. It is a crime against humanity.
The violence against Kauserbi is FAR WORSE than the violence against Nirbhaya. In Kauserbi's case the people PAID TO PROTECT HER (the police) raped and killed her. State violence is worse, by an order of magnitude, than common criminal violence.
This was NOT any ordinary criminal violence. It was violence orchestrated by MODI AND HIS TEAM. People paid to protect us have become our killers, under the leadership of Modi.
Fortunately for India, the evidence is now pouring out, one by one, and Modi has no place to hide.
I call upon Swami Ramdev to DISSOCIATE HIMSELF PUBLICLY FROM MODI.