24th August 2012
The master restorer, Cecilia Gimenez (aka Celia Gimenez)
The original church painting was no masterpiece, completed in two hours by a local man, Elias Garcia Martinez just over a century ago. However …
Cecilia/ Celia Gimenez has now made it into one.
Ms Gimenez said she was an accomplished artist. "I had a four-room exhibition – I sold 40 paintings," Ms Gimenez said.
This amazing depiction of Christ has now been found on a piece of bread, confirming that this is a miracle:
There is roaring demand for admission to the Gimenez Art Academy.

Mitt Romney joined up yesterday and has already learnt how to reproduce the Gimenez masterpiece.
A satisfied artist. (Self portrait at the art school)
(Gimenez art school poster)
Celia restores artists as well (An artist, made new by the art school)
A student under training (Wearing a hard hat in case the heavens open up).
Step 1: Ask the model to keep still.
Student personally supervised by Cecilia.
Be prepared to wait for a tattoo session/ restoration. A very long waiting list.
Restoration is underway at Mount Rushmore.
Cecilia received her restoration training at the prestigious Bean School of Art.
Yet another restoration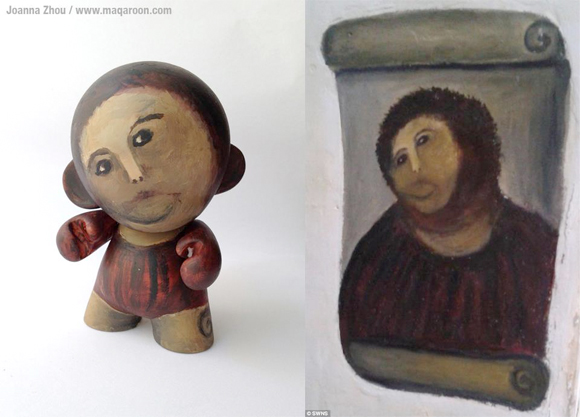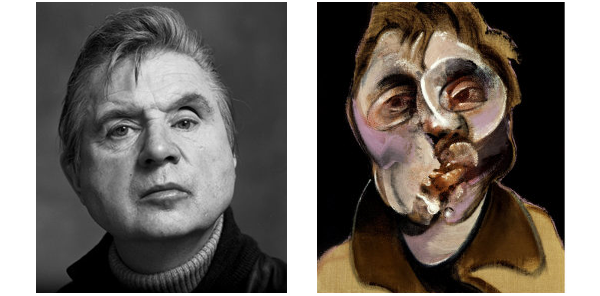 A new movement has been born: to restore what we were. It is all about finding our roots.
* * *
Let us praise the powers that be for Cecilia (aka Celia) who has brought so much joy to the world. Even in war zones and among people dying of cancer, this will surely provide some relief.
Request
If you come across important work by Cecilia's disciples, please let me know.
Addendum:
Tourists are lining up to see this masterpiece. Approximately 30,000 fans turned up at the church to see the grandmaster's work.
Another update! (21 September 2012)
The grandmaster of restoration "wants the church to turn over some of the 2000 euro it made in admission fees over four days when it turned the painting into a tourist attraction, reports ElCorreo.com" [Source].
Hon. Lady Geminez has hired a lawyer to seek royalties for her work. May I request the church to pay her half the booty it has acquired from this masterpiece. With the other half it can carefully frame the work for posterity.
Addendum

If you wish, you can sign the petition to preserve Cecilia's "restoration". We can't afford to lose this high point of humour in our history.
Never before has a work of art generated so much mirth and given so much joy.
It deserves to be preserved.