23rd July 2011
We are all Levellers now – and we don't even know whom to thank for it
Being untrained in political thought (having learnt a little bit through readings incidental to my study of economics), I keep discovering new things all the time as I read snippets here and there.
I had read, in passing, about the Levellers, but did not appreciate their IMMENSE influence on modern political thought until I read the essay on John Lilburne by Jim Powell in his book, The Triumph of Liberty – a book about which I've commented a number of times by now. (Let me reiterate that Powell's is a MANDATORY bedside book for all liberals. It is large but very readable, being divided into 64 chapters which deal with 64 key thinkers and doers of liberty. I read one or two snippets from it periodically when I get the time, in between the fifteen other half open books by my bedside.)
Powell's essay on John Lilburne is extremely powerful and evocative. John Lilburne suffered greatly for his forthright ideas on liberty (even Oliver Cromwell, who was instrumental in saving his life once, found his egalitarian views intolerable). He was fined, whipped, pilloried, tried for treason, sedition, controversy, libel. He was imprisoned in the Tower, Newgate, Tyburn, and the Castle [Source]. The abolition of the Star Chambers was entirely due to John Lilburne's work. He died at the young age of 43, weakened by the many tortures inflicted on his body by the English king AND Parliament.
But before that he had written tens of pamphlets and entirely changed (along with John Milton and others) the beliefs among the common people of England about who they were (namely, sovereign individuals, not 'subjects' of a king). Without John Lilburne having established the foundations of liberty, John Locke could not have emerged.
I cite from Powell: "He championed private property, free trade, freedom of association, freedom of religion, freedom of speech, freedom of the press, a rule of law, a separation of powers, and a written constitution to limit government power. Lilburne helped to bring these dynamic ideas together for the first time in history."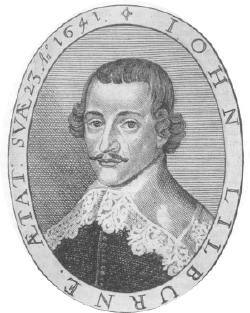 John Lilburne (1614-1657)
Many of his pamphlets are now available on the internet. Time permitting I will read and extract key sections from them. But in the meanwhile, here is some ready information (cut and paste) on the Levellers:
The Levellers were a group of English reformers mainly active during the period from 1645 through 1649, who originated many of the ideas that eventually became provisions of the U.S. Constitution, especially the Bill of Rights. Inspired by the Petition of Right of 1628, and led by John Lilburne, beginning as a lieutenant of Oliver Cromwell, they initially supported the Protectorate, but then turned against it when Cromwell failed to make the reforms they demanded.

The response was the prosecution of most of its leaders, who were either imprisoned or executed.

Their proposals continued, however, to inspire political philosophers and future generations of reformers. They appear to have influenced their contemporary, Thomas Hobbes, and later writers such as James Harrington and John Locke.

Their proposals were revived during the Revolution of 1688 to produce the English Bill of Rights in 1689, which led to the Whig party in Britain that supported many of the reforms for Britain sought by the Americans during the War of Independence. [Source]
Facebook
I've just started a FB page on Lilburne. Join it here.
Books on Lilburne:
A few public essays on Lilburne:
Some journal articles on John Lilburne:
Some of Lilburne's pamphlets:
Please send in links to other useful info. Much appreciated.